CONSULPAV has a team of technical specialists with solid experience on Supervision and Quality Control on pavement woks.
During the pavement construction CONSULPAV, while Supervision, meets a set of obligations that are under legal arrangements for public works contracts.
Among other functions, the Surveillance involves:
• Review and approval of studies prepared by the contractor for all materials to be applied in work, prior to any application;
• Continuous coordination of activities, through the constant presence of a Technical Specialist at the site,
• Implementation weekly meetings;
• Possibility of the Specialist Engineer visitation to the construction by solicitation;
• Elaboration of a Final Report of the Supervision, with the summary of all the work and achievements in quality control.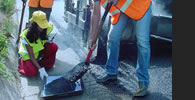 CONSULPAV also conducts the assays of the construction quality control, once its equipped with a complete laboratory for bituminous mixtures, bitumen, soil, rock and aggregates assays.
CONSULPAV is able to provide services for the Supervision and Quality Control of Pavement Works with the maximum guarantee of quality.